Adult / Senior Group Programs

Experience the End of the Oregon Trail in Historic Oregon City with a historically-clothed interpreter to guide your group through the exhibits and our two feature films, "Bound for Oregon" and "Oregon's First People." This 30-minute film traces the true stories of four pioneers making their way to Oregon. Elizabeth Dixon Smith, John Minto, Lucy Henderson, and Joel Palmer came from different backgrounds, and were motivated by different goals, but all faced the hardships and the joys of the Trail. Hear their experiences in their own words – taken from their journals and letters – interwoven with the narration of John McLoughlin, the Father of Oregon. In addition to the interpretive center, our site has many more great features we hope you will enjoy. Historic Abernethy Green is perfect for picnics, and the visitor lounge is a state welcome center with complimentary coffee, tea, travel brochures, and assistance from friendly staff who can help you plan the rest of your adventure.
Standard Adult / Senior Program — 1 hour and 30 minutes — $13.00 a person / Minimum $260.00 per group
*Including a presentation/tour of the museum (1 hour) and movie (30 minutes)
Customized Adult / Senior Program — 2 hours –$15.00 a person / Minimum $300.00 per group
*In addition to the presentation/tour of the museum (1 hour) and movie (30 minutes), groups can also enjoy an extra 30 minute presentation from one of our partners: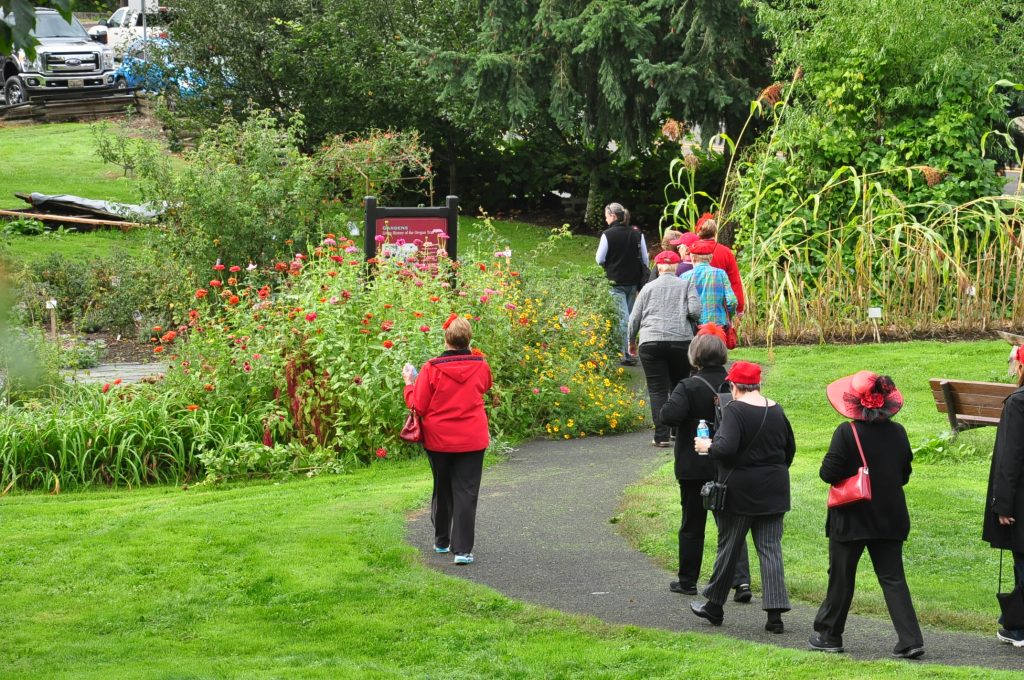 Master Gardeners: Master Gardener volunteers are available by request to meet with groups to talk about gardening in pioneer times and the sustainable gardening practices still used today. Presentations are tailored to the ages and interests of the group, with the possibility of a hands-on project in the demonstration garden when time and weather allow. Groups are always welcome to visit the heritage garden, which is representative of plants grown by the pioneers in the 1860s and includes heirloom roses, vegetables, herbs, and fruits.
Find out more about the End of the Oregon Trail Pioneer Garden, visit the blog or the Clackamas County Master Gardeners webpage.

To make a reservation, email our administrator at amy@historicoregoncity.org and a historical interpreter will be in contact with you directly to help customize your visit and provide additional instructions. We look forward to seeing you!