We invite you to hold your next event at the End of the Oregon Trail with many options to choose from. The center is available before or after regular open hours, with some exceptions.
Tell us about your gathering, we will help you find the space and the services to make your event memorable at the End of the Oregon Trail. Here are just a few of the events we have already hosted:
Wedding
Fundraiser
Epic movie night
Family reunion
Business meeting
Celebration of life event
Workshops, lectures and seminars
Little House on the Prairie or "American Girl: Kirsten"-themed Birthday party
Available Spaces to host your event: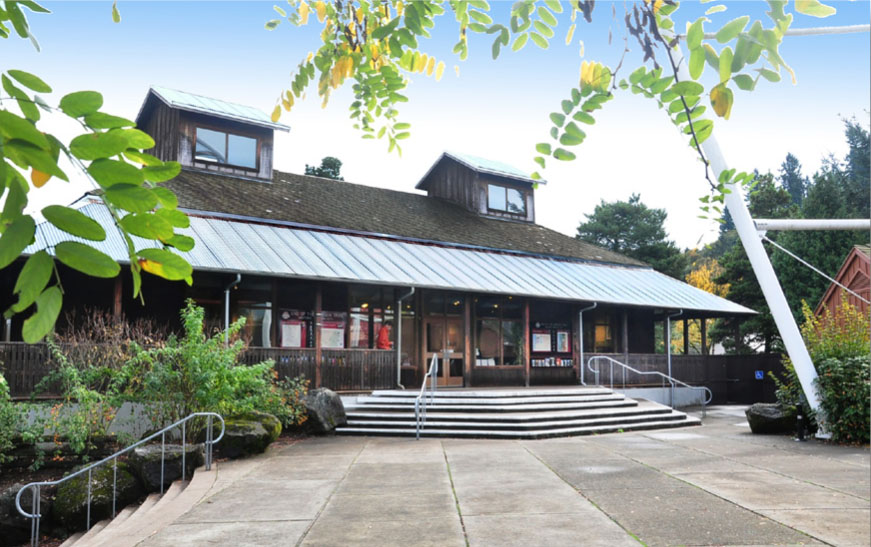 Visitor Information Center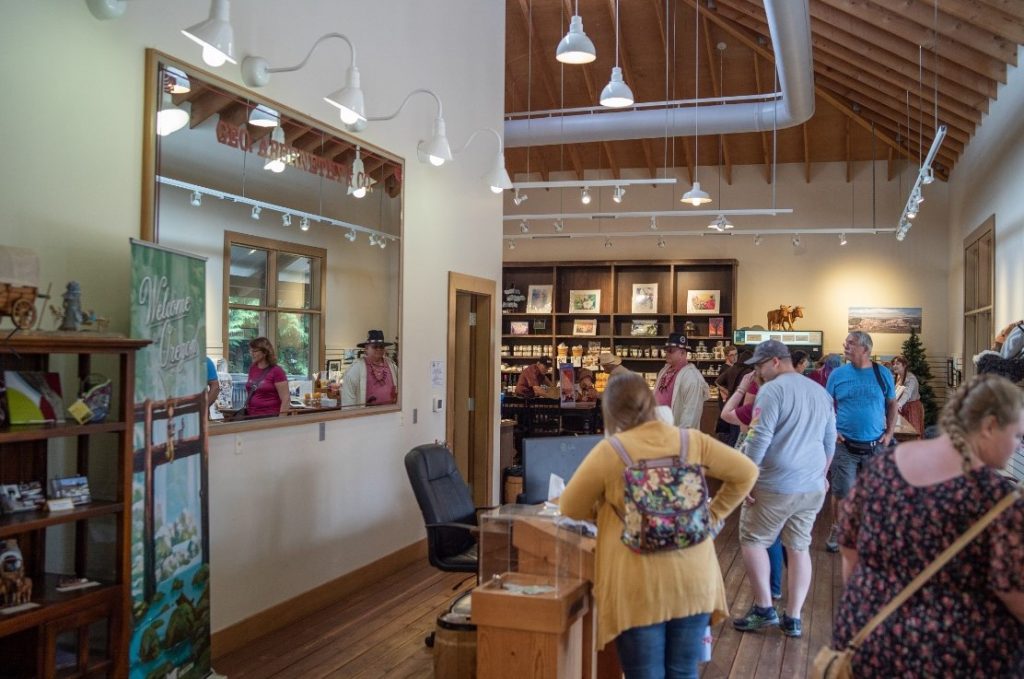 The wrap-around windows and sky lights offer a bright, warm inviting space for guests. With a Welcome Desk, TV with Blu-ray DVD capability, two tables and twelve chairs this space lends itself well for many types of gatherings. As the End of the Oregon Trail gift shop, there are also many shopping opportunities in this space if you'd like to schedule time for your guests to pick a souvenir, or you can choose party favors beforehand. Maximum capacity: 50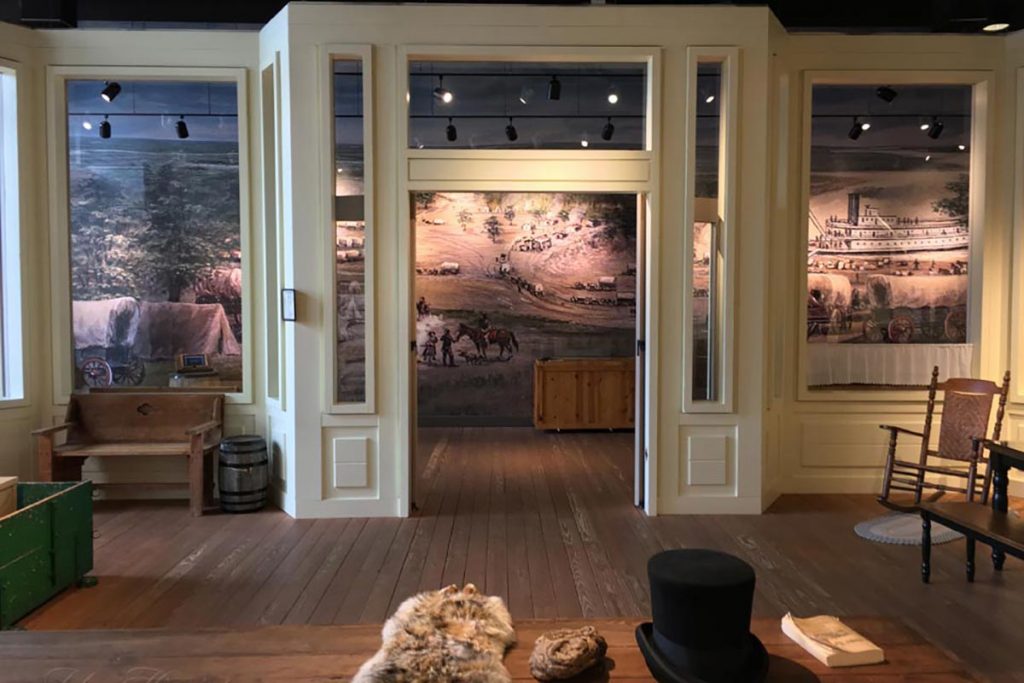 Wagon I:
Beginning the Journey
"This is a bright, large, open space adjacent to the Hallway – this space is well suited for a variety of events with space for greeting area and refreshment station. Maximum capacity: 84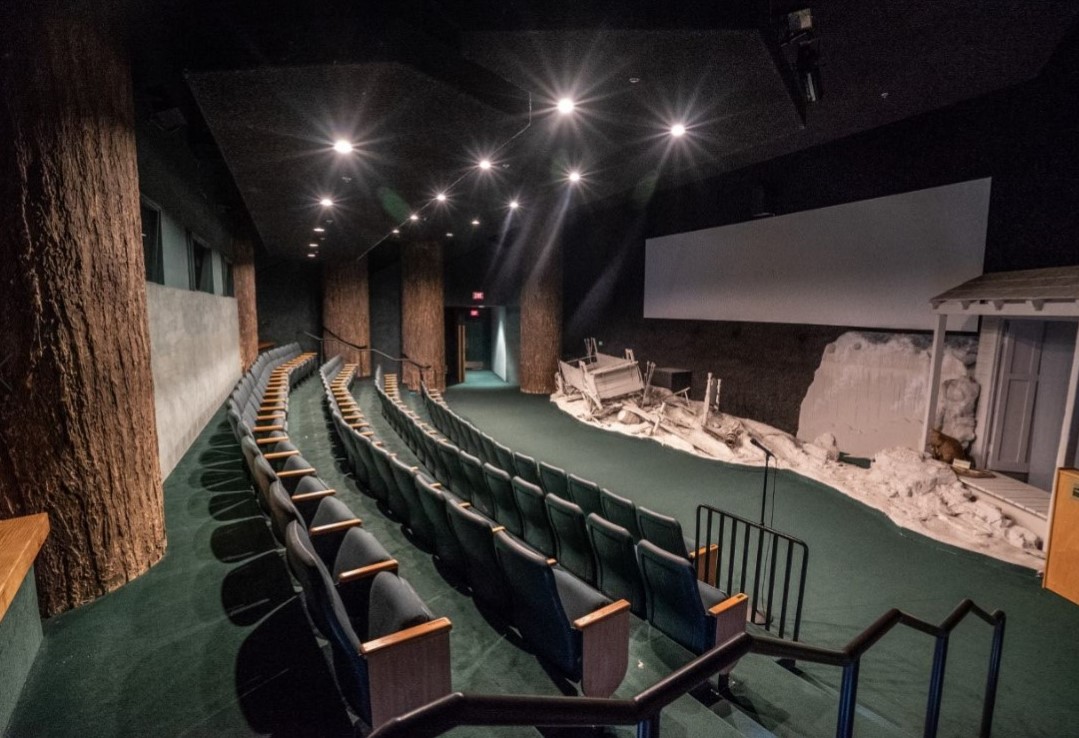 The theater has 80 seats, 4 handicap accessible spaces, and two benches that seat approximately 10 people each. Blu-Ray and DVD equipment can show any movie or PowerPoint on the big screen. Microphone and ActiVote personal voting terminals also available, making this space perfect for workshops and lectures, or festive movie night events. Maximum capacity: 99.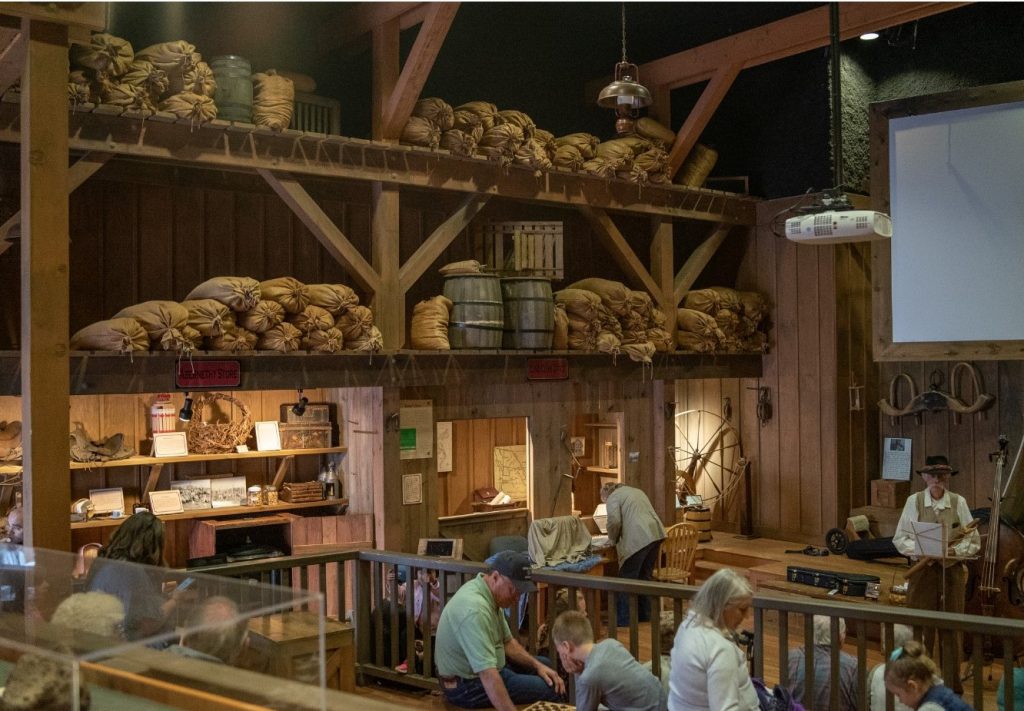 Wagon III:
End of the Journey
This space has Blu-ray DVD and PowerPoint capabilities, bench seating and a stage. Adjacent outdoor terrace space also available. Maximum capacity: 51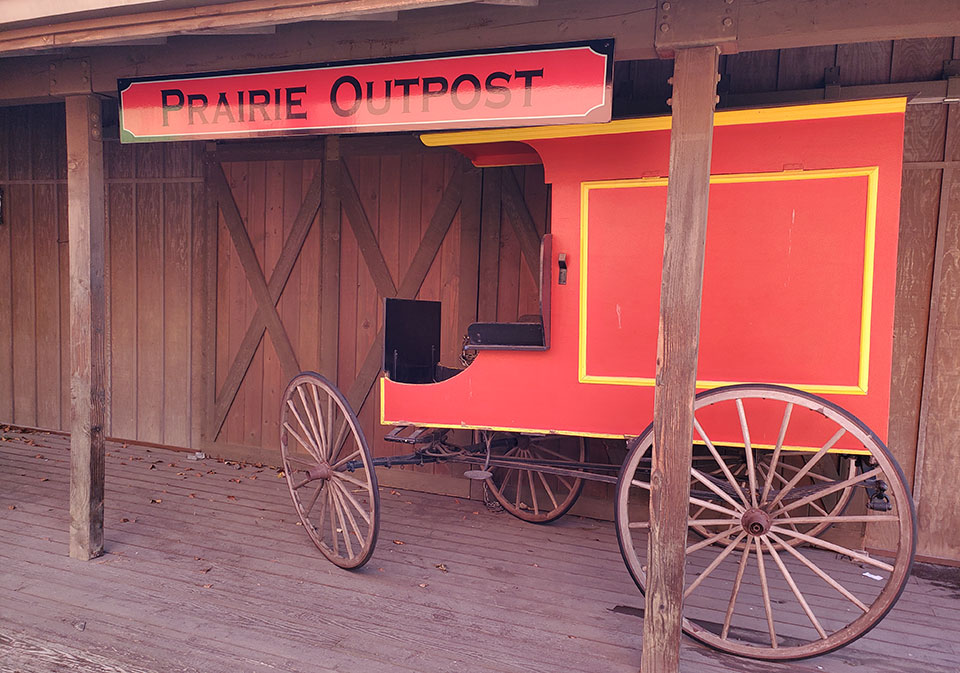 This space has a cozy atmosphere with the "Farm / Barn" motif. Maximum capacity: 47, with an adjacent patio available for larger parties. Henderson Farm's Prairie Outpost is available during regular business hours. Smaller parties with shorter events can consider booking just this room:
$275 Prairie Outpost Event includes:

Parking
Henderson Farm space
Staffing – 2 hours total, start to finish, including hosting, basic set-up and clean-up
Tables and seating for up to 30 people
Garbage and recycling removal
For events before or after business hours:
$625 Basic Event Package includes:

Parking
One event space of your choice
Welcome desk & coat rack
Staffing – 3 hour event plus 1 hour basic set-up and 1 hour clean-up
Tables – twelve 6′ available, including banquets and pine tables
Seating – benches and 30 folding chairs
White linens for two 6′ tables, including skirting
Garbage and recycling removal
Customize your event with the following options:
$275 Beverage Service: Clackamas Heritage Partners is exclusively responsible for providing beverage and beverage service. Includes beer, hard cider, and wine selections, ice, cocktail napkins, plastic glassware and beverage setup and service by OLCC licensed staff. Beverage costs are based on consumption, charged for open bottles. Special selections are available upon request. Beer selection: Bridgeport IPA, Deschutes, and Henry Weinhard – $6 per bottle. Hard Cider: Pearfect Portland Cider and Sorta Sweet Portland Cider – $9 per bottle. OLCC licensed staff is $225 for 3 hours of event time, plus 1 hour set-up and 1 hour clean-up, per staff person.
History Programming: Book a historically clothed interpreter to add some 19th-century charm to your event with these options:

Presentation: an informative and fun 30-minute overview of Oregon Trail history
Candle dipping and butter making: keep your candle as a souvenir and enjoy your hand-made fresh butter as a snack
Land claiming outdoor activity: reenact the pioneers' first step towards making a new home in Oregon
Wagon packing: a thought-provoking real-life math challenge to discuss what you would pack in your limited wagon
Oregon's First Peoples film: 40 minutes long, established in collaboration with members of the Confederated Tribes of the Grand Ronde. Provides a history of the people who have lived in the land that we now call Oregon City.
Bound for Oregon feature film: 30 minutes long and made from genuine pioneer journals

ActiVote technology: we can create custom content to accompany these hand-held voting terminals

Master Gardeners: learn historical gardening tips that can still help your plants bloom. (Seasonal Activity)

Catering: Need catering ideas? Ask for our recommendations!
50% Deposit required to hold reservation. If the deposit is not received, we will move your reservation to the waiting list. To cancel a reservation, please notify event services at least 10 days in advance. Cancellations must be submitted in writing (email, fax, or mail). Cancellations become official when CHP has confirmed your request at 503-657-9336 ext. 107.
Certificate of Insurance: Please provide a Certificate of Insurance to include liquor liability, (when beverage service is provided by CHP), with Clackamas Heritage Partners as additional insured.
If you are interested in placing a reservation, please email your package request, additional activities, contact information and any other information we may need to amy@historicoregoncity.org