Thank you for your interest in the End of the Oregon Trail!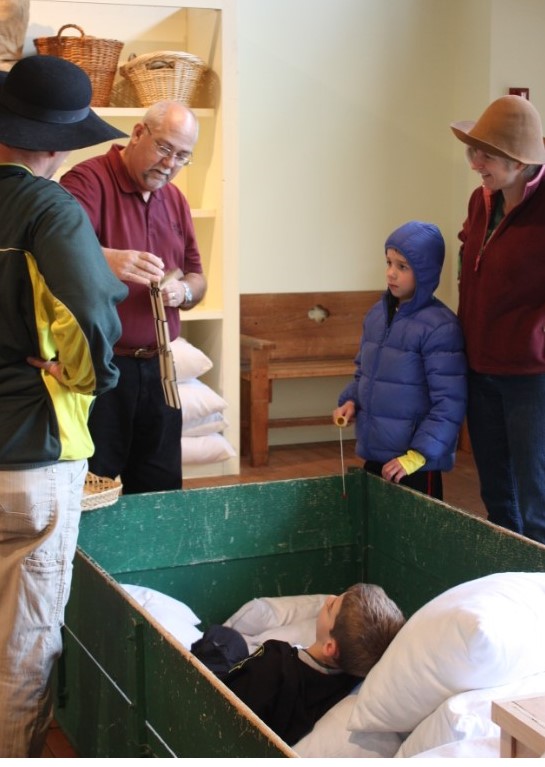 Our employees and volunteers share directly in the mission of Historic Oregon City, serving visitors and the local community at our various sites. They are involved in a range of activities that seek to preserve our heritage, educate the public and interpret the history of the Oregon Territory, Clackamas County, and Oregon City, the western terminus of the Oregon Trail. As an employee or volunteer, you can help in the visitor information center, act as docent in the interpretive center, lead school group tours, maintain buildings and grounds, research exhibits, organize collections, or tell us about your other skills and interests that might help the End of the Oregon Trail in a whole new way.
If you are interested in joining the team at the End of the Oregon Trail, fill out the form below (scroll towards bottom of page) or come pick up a paper application from the visitor center. We will contact you as soon as we have a chance to review your application. Thanks for your interest!
JOB OPENING:
Employer: End of the Oregon Trail Interpretive & Visitor Information Center (Clackamas Heritage Partners, CHP)
Location: 1726 Washington St., Oregon City OR 97045
Job Title: Visitor Center Staff
Job Type: Full Time 35 hours a week
Expected Start/End Date: March 2023
Clackamas Heritage Partners responsibilities as guardians of our mission, to "preserve the heritage, educate the public and interpret the history of the Oregon Trail, Clackamas County and Oregon City, the western terminus of the Oregon Trail," include providing unique enriched programs and, diverse, inclusive and authentic stories of history impacted by the Westward Migration ending at "The End of the Oregon Trail," influencing the development of the Oregon territory.
Job Description: We are seeking an outgoing and personable individual to add to our Visitor Center staff. We are open every day of the week, 9:00-5:00 pm, and 10:00-5:00 pm on Sundays, and are seeking someone with local tourism knowledge and experience in retail & customer service.
Benefits:
– Starting pay $16.00 an hour
– Oregon State regulated sick time and Oregon Saves programs
– Staff development/trainings, flexible work schedule, opportunities when possible and store discounts.
Duties would include but not be limited to:
•Working with our Point-of-Sale system to check out guests in our visitor center.
•Sharing local tourism knowledge, answering questions about the area, and Oregon in general. Guests come to our center from around the world, and we need staff that can help and engage with their varying questions.
•Supporting other staff, stocking items, and helping with other tasks as they come up. Flexibility and reliability is important in this role.
Essential Functions: Working with the general public to provide a positive educational experience about the history of Oregon. Maintaining, organizing and cleaning work areas after each group is an essential responsibility we value.
Required Qualifications: No experience needed. A passion for history, education, and people is a benefit. Customer service, teamwork, communication skills, positive attitude, ability to focus in chaotic situations, flexibility and grace are qualities that will enable you to enjoy this employment opportunity.
Physical Demands: Lifting boxes to be restocked, typically ~20 lbs maximum.
Work Conditions: Classroom type working conditions. The noise level in the work area is typical of most elementary class room environments with children, adults, personal interruptions, and background noises.
Supervision Received: End of the Oregon Trail Education Coordinator will conduct training and supervision for the School / Group Interpreters.
To apply for this position, please fill out the form below, and email a copy of your resume and cover letter to Gail Yazzolino, Executive Director: gail@historicoregoncity.org